Optimal Decisions in Applied Statistics
A variety of applications of optimal statistical procedures has been analysed. The list of applications includes: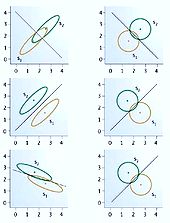 Optimal statistical procedures in genome-wide association studies
Optimal allocation of patients in multicenter clinical trials
Optimal statistical inference in dental clinical trials
Optimal multi-stage group testing strategies in drug screening
Permutation testing in reliability and medical studies
Dose-finding experiments
Quality of life in health economics
Environmental studies
Cardiff Investigators
Prof Anatoly Zhigljavsky
Dr Valentina Moskvina
Dr Vippal Savani
Dr Jon Gillard
Dr Andrey Pepelyshev
Dr Matthew Jones
Ms Anette Woehl
Collaborators
Prof Valery Fedorov
Dr Byron Jones
Dr Vladimir Nekrutkin
Dr Nina Golyandina
Dr Anastasia Ivanova
Dr Natalia Bochkina
Selected publication
Nekrutkin V.V., Zhigljavsky A.A., eds. (1999) Statistical Analysis in Clinical Studies. University of St.Petersburg, 342 pp. (in Russian)
Zhigljavsky A.A., ed. (1995) Oral Care Statistical Studies, University of St.Petersburg, x+205 pp.


Moskvina V and Schmidt KM (2006) Individual SNP allele reconstruction from informative markers selected by a non-linear Gauss-type algorithm. Human Heredity 62:97-106
Moskvina V, Holmans P, Schmidt KM, Craddock N (2005) Design of case-controls studies with unscreened controls. Annals of Human Genetics, 69, 566-576.
Fedorov, V., Jones, B., Jones, C. M., Zhigljavsky, A. (2005) Multi-center clinical trials with random enrollment: theoretical approximations. Comm. Statist. Theory Methods 34, no. 4, 955--985.
Bond B., Fedorov V.V., Jones C.M., and Zhigljavsky A.A.(2001) Pharmaceutical applications of the multi-stage group testing, in: Optimum Design - 2000 (Atkinson A.C., Bogacka B., Zhigljavsky A.A., eds.), Kluwer Academic Publishers, 155-166.